Hala Yousif biography
Hala Yousif is textile designer and owner of her company Halle Design. She creates a more beautiful world by translating her life story into her mystical textile designs.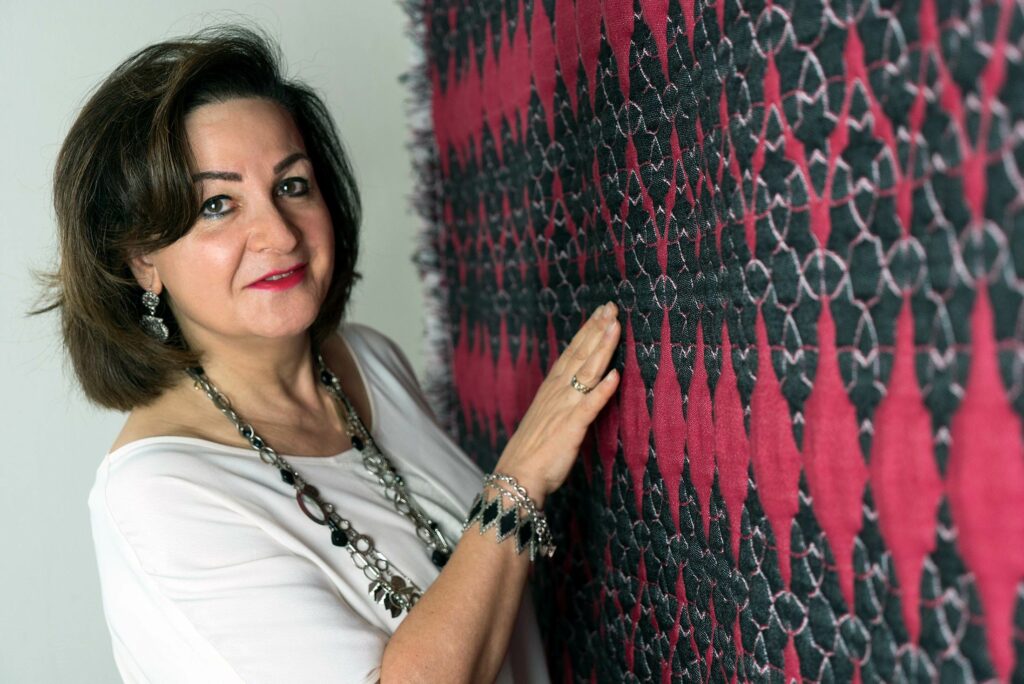 Hala's textile design style embrace the many rich influences the path of her life have crossed. From her country and culture of origin, Iraq, to those of her two countries of adoption, Sweden and the Netherlands.
Her work is inspired by Iraqi folklore, the history of Babylon and the elements from the Sumerian, Assyrian and Islamic arts. It is characterized by the intricate patterns. In Iraq she painted on clothes in swirls of warm bright colors.
In Sweden, a number of elements inspire her for new designs. Firstly, compared to her country of her birth, the bright and clear skies impress her, and the colors of the environment are completely different. Secondly, the ice, the snow, and the huge difference in temperature are life changing, but sources of inspiration. Thirdly, the minimal use of colors, the sunlight that reflects from ice, and snow inspire her to take this completely new environment as the basis for her new designs. The textures kept in her memory and and her fascination for the Assyrian and Sumerian art stored already during her childhood, and this life changing experience inspire her to create a unique design concept.
In the Netherlands and in Paris, she was able to extend her knowledge with the most modern textile design techniques. Her use of colors and materials is unique. The textile designs Hala presents on this website provide a blend of styles from the Northern and the country she was born, using these modern techniques. The Arabic kalligrafie, the lines, and curves, the pattern come from the elements of the old cultures of the country of her birth, while the textile design techniques, the materials and colors used incorporate the Northern influences. The sprinkle of silver and gold stays.
Hala's CV
Hala Yousif was Born in Baghdad Iraq.
1978- 1982 Bachelor Academy of Fine art Baghdad Design and Decoration.
1982-1988 Textile designer Iraqi Fashion House. Fashion decoration based on old Iraqi cultures, e.g. Sumerian, Assyrian, Babylon. Awarded best designer, recognized with trips to Amman, Rome, London representing the Iraqi Fashion House.
1988-1990 Free-lance artist for Private Fashion House Suha & Nuha in Baghdad. Hand painting on patchwork and hand painting of shawls, capes, abayas and kimonos for international high end customers and 5 fashion shows in Baghdad.
1990-1994 Founder and Owner of Atelier Shal. Hand painting on clothes, decorating patchwork based on Iraqi culture and selling Shawls, capes Abaya's to customers In Baghdad.
1994 The dramatic flee to Amman Jordan because of the Gulf war. Selling textile products to Hotel boutiques.
1995 Leaving Amman and joining parents in Stockholm Sweden.
Courses Swedish, Personal Computing, Desktop Publishing, Web design, silkscreen printing and hand painting on silk.
1998 Participant Interior Fair Sollentuna.
1998 Participant Stockholm cultural capital of Europe with cultural fashion show.
2001 Started as free-lance translator.
The Biography of Hala Yousif is determined by an important theme. Hala's dream always was to study in Europe and work as fashion designer in Europe. However her love for yarns, structures and textile design techniques was larger than to become fashion designer. This choice enabled her to design textiles for fashion, but also for interior.
2003 Leaving Stockholm and joining her sister with her children and parents again in Eindhoven, the Netherlands.
2005-2008 Education: Bachelor Fine art Academy of Maastricht.
2007 Internship: Malhia Kent Paris, exclusive textile weaving.
2008 Graduation project: My Scandinavian dreamhouse of 1001 nights. East meets West.
2008 and 2009 Summer school Kortrijk Belgium Textile design, dry felt, silkscreen printing, textile dying, material treatment. Exposition of the textile creations.
2009-2013 Unpaid informal care of parents who became very ill.
2011 Halle Design. Hala became founder, owner of Halle Design. Exclusive textile designs for fashion and interior.
Events
Design District 2023, 24, 25, 26 May 2023, van Nelle Fabriek, Rotterdam
Dubai Downtown Design 2022, 9-12 November 2022, D3 Designdistrict, Dubai.
Dutch Design Week 2022, 22-30 October 2022, Mondilab, Steenoven 32, Eindhoven
Glue 2022, 15-17 September, Intercodam, Amstel 135, Amsterdam
Masterly – the Dutch in Milano, 7-12 June 2022, Palazzo Francesco Turati.
Design District, 3-5 November 2021, van Nelle Fabriek Rotterdam.
Masterly The Hague, 21-24 October 2021, Cornelis Kruseman Stichting, The Hague.
Glue 2021, 16-19 September 2021, Hotel Arena, Amsterdam
Masterly – the Dutch in Milano, 5-10 September 2021, Palazzo Francesco Turati.
Glue amsterdam 18-20 September 2020 at Kastoor, IJburg.
Index Qatar 22-24 October 2019, Doha
Index Dubai 17-19 September 2019
Meesterlijk 30 Nov-2 December 2018, Amsterdam
London Styley 14-15 July 2018
Meesterlijk 1 -3 December 2017, Amsterdam
Design contest Textielmuseum Earth Matters October 2017, Tilburg, the Netherlands
Fashion show Mandeiska Kulturföreningen, Lund, Sweden 2015
Dutch Design Week 2014, Eindhoven, the Netherlands
Finalist in I Contest competition Textielmuseum 13-14 September 2014, Tilburg, the Netherlands
Fashion X Cult Weekend 5-7 September 2014, Eindhoven, the Netherlands
Index Dubai May 2014
Dutch Design Week 2010, 2011, 2012, Eindhoven, the Netherlands