Textile designs by Hala Yousif
Find textile designs online created for fashion textile and home textiles on this website. Hala uses a multitude of textile design techniques, like weaving, lasering on textile, and hand painting on textile. She also uses a specialized technique to upcycle textiles to contribute to a more sustainable world. She uses these textile design techniques for fashion as well as for interior textiles.
Interior architects across the world admire her interior textile designs. She shows her work at design fairs across Europe, but also in the Middle East. She sells her textile designs worldwide. You can contact her directly to create any custom made textile design for your interior or fashion product. Next to that you can buy your finished fashion textile designs such as silk scarves for women, gorgeous dresses, unique abaya's, jalabiya, capes, poncho's, and home textile products like decorative cushions, beauty pillow covers, wall hangings and wall tapestries with geometric art, arabic art plaids and throw blankets in her textile design online shop.
Fashion and interior textile designs – Hala's movie
Hala is founder and textile designer of Halle Design Eindhoven, The Netherlands. The movie shows her background her inspiration, her education, examples of her works and some of the exhibitions she participated in. Moreover, it shows some of the textile design techniques she uses for women's fashion while using haute couture textile left-overs. The movie is recorded during the Dutch Design Week in Eindhoven, The Netherlands.
Textiles design inspiration – Sources of influence
Hala's work embraces the many rich influences the path of her life has crossed. Most of all from her country and culture of origin, Iraq, but also to those of her two countries of adoption: Sweden and the Netherlands.
The Iraqi folklore the history of Babylon and elements from the Sumerian and Muslim cultures and arts inspire her early textile designs. It is characterised by the use of intricate patterns, painted on clothes in a swirl of warm bright colors.
Then the fresh breeze of Sweden blows. The colour palette shifts towards the pure limpid colors of the Scandinavian landscape, with the particular emergence of white. Next to that, patterns simplify and minimalize.
Textile design techniques
In Sweden and the Netherlands Hala learns new textile design techniques as textile designer. These techniques offer her a wealth of new possibilities and combinations in textile fibers, colors as well as in structures.
"The online textile design work Hala presents on this website show combinations of these techniques and influences used in fashion textiles and in the interior home decor."
In Sweden Hala had the opportunity to learn painting techniques on silk. In the silk shawls you will find back the swirl of colours that reflect memories from the country she was born.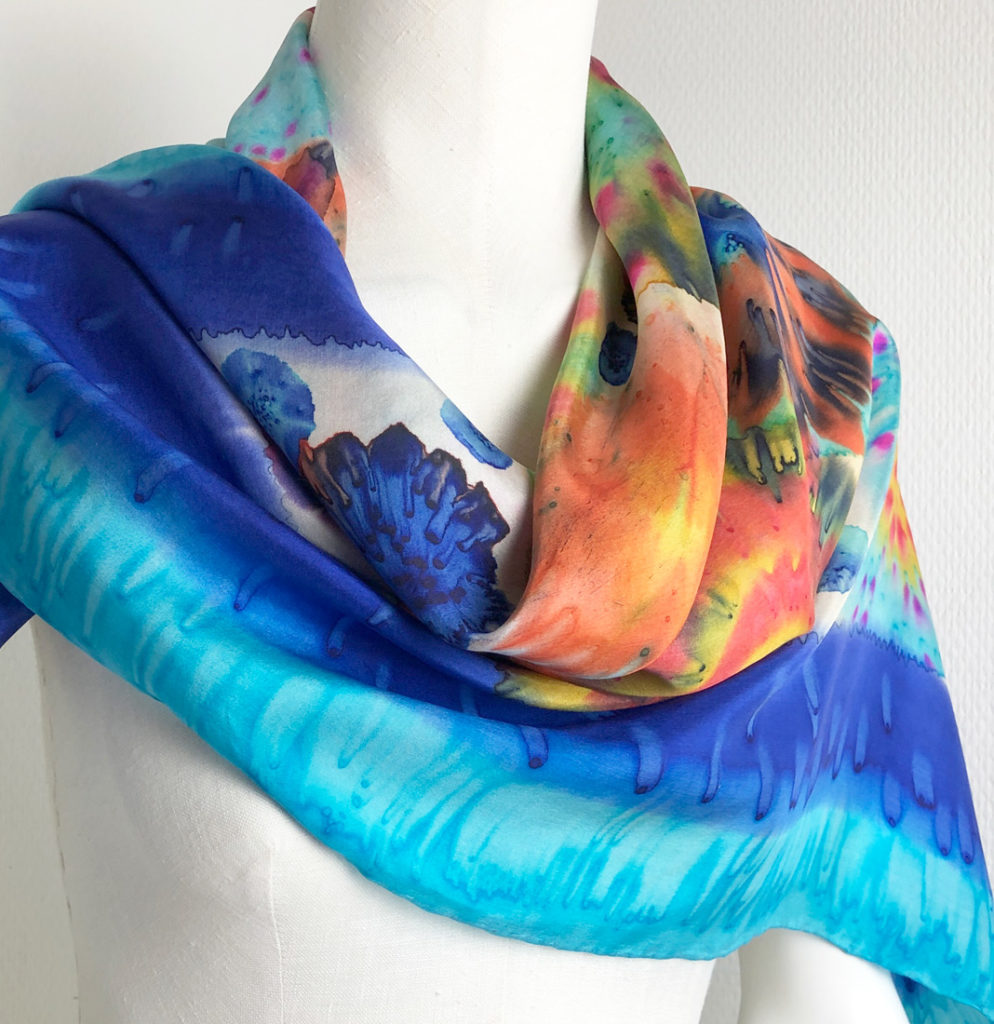 Sustainable textile designs
In the Netherlands she masters a textile design technique to unite different pieces of textile. She is aware how poluting the textile industry is. While being aware of this, this technique enables her to contribute to a more sustainable world. This unique textile design technique can be very well used with left overs from used pieces of textiles. She uses the technique to create women's fashion. Next to that she also uses left overs of haute couture textiles to incorporate this in cushions, for instance. Find the results of these unique textile designs online on the different pages of this website.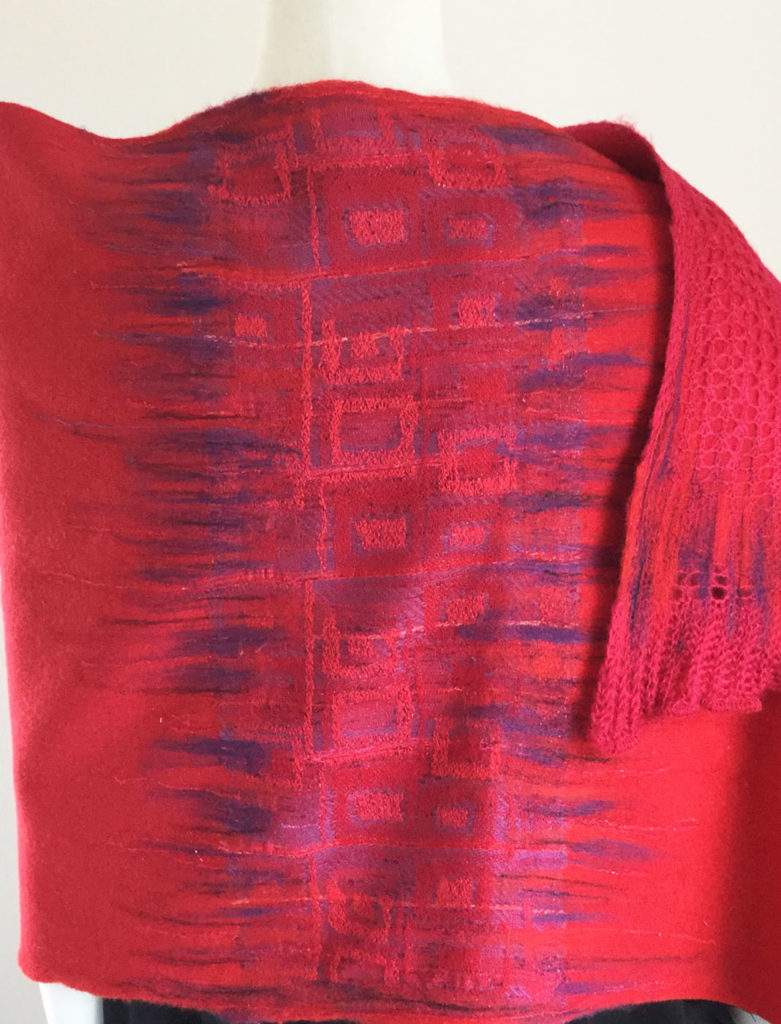 Next to the fashion textile designs, Hala presents interior textile designs that provide a blend of styles from Scandinavia and the country she was born. The Arabic kalligrafie and lines and curves come straight from a 1001 Nights. At the same time, the textile design techniques, the materials and colors used incorporate the Northern influences. However, the sprinkle of silver and gold stays to complete the fairytale atmosphere.
You can find more information and background on her textile designs online for handcrafted scarves blog.
Inspired? Find her contact page. Email or phone her for any textile design she can work out for you.
For more updates on textile designs online her Facebook page or Instagram page.
You can also visit Hala to work out a textile design. Find her address on the contact page. Hope you will be as enthusiastic as one of her relations.
Purely out of interest, I visited Halle Design. The captivating Hala showed a variety of fabrics and creations in a thousand and one colors, materials and structures. It was like a kind of vacation, a journey along sandy beaches and lush forests, past oriental decorated palaces. Then suddenly another flight through the air with light-transmitting airy materials. Hala's work stands for worldly design by a true Master of Arts.
Hala Yousif is textile designer and owner of Halle Design.