Textile Design
Textile design requires imagination, sensibility for the use of colors, knowledge of materials and skills how to treat materials, including mastering textile design techniques. As textile designer and owner of Halle Design Hala Yousif presents in this site her very own and unique style that is inspired by her background and life she lived in different countries of the world. The textile designs she presents are applied in the exclusive fashion industry and in high end interiors.
Textile design inspiration
Hala's textile design style embrace the many rich influences the path of her life have crossed. From her country and culture of origin, Iraq, to those of her two countries of adoption, Sweden and the Netherlands.
Her early work is inspired by Iraqi folklore, the history of Babylon and the elements from the Sumerian and Islamic arts. It is characterized by the intricate patterns, painted on clothes in swirls of warm bright colors.
In Sweden, a number of elements inspire her for new designs. Firstly, compared to her country of her birth, the bright and clear skies impress and the colors of the environment are completely different . Secondly, the ice, the snow, and the huge difference in temperature are life changing, but sources of inspiration. Thirdly, the minimal use of colors, the sunlight that reflects from ice, and snow inspire her to take this completely new environment as the basis for her new designs. As a result, the textures kept in her memory and stored already during her childhood, and this life changing experience result in a unique design concept.
Textile design blend of styles
The textile designs Hala presents on this website provide a blend of styles from Scandinavia and the country she was born. The Arabic kalligrafie and lines and curves come straight from a 1001 Nights. The textile design techniques, the materials and colors used incorporate the Northern influences. However, to complete the fairytale atmosphere, the sprinkle of silver and gold stays.
" Purely out of interest, I visited Halle Design. The captivating Hala showed a variety of fabrics and creations in a thousand and one colors, materials and structures. It was like a kind of vacation, a journey along sandy beaches and lush forests, past oriental decorated palaces. Then suddenly another flight through the air with light-transmitting airy materials. Hala's work stands for worldly design by a true Master of Arts."

Mannie Klijn Velderman
Textile design techniques
Hala starts as textile designer at the Iraqi Fashion House. She becomes skilled in pattern design, hand painting and patchwork. In Sweden Hala learns painting on silk and silkscreen printing techniques. In Paris at Malhia Kent she spends many hours with the loom and weaves for haute couture customers. As part of her education in the Netherlands she learns again a number of new techniques as textile designer. These new techniques offer her a wealth of new possibilities and combinations using different textile fibers, colors and structures. She experiences the Academy in Maastricht, Malhia Kent in Paris and the Textielmuseum in Tilburg as great places to experiment and to practice textile design techniques.
Weaving
In cooperation with the Textielmuseum Hala develops home textiles for the high end market. The 3D weaving textile design technique is her favorite. Hala delivers the design idea and pattern for the textiles. She continuous experimenting until she is satisfied with the results.
Hand Weaving
Weaving in the Textielmusuem is mainly done with automated weaving machines. However, Hala is also a skilled hand weaver. Her internship at Malhia Kent in Paris is very valuable and is of great influence. She works hours and hours with the loom experimenting with many yarns and different colors. On top of that she learns in Paris what it means to be part of a design house and deliver designs to haute culture fashion companies like Chanel.
Printing and hand painting on textile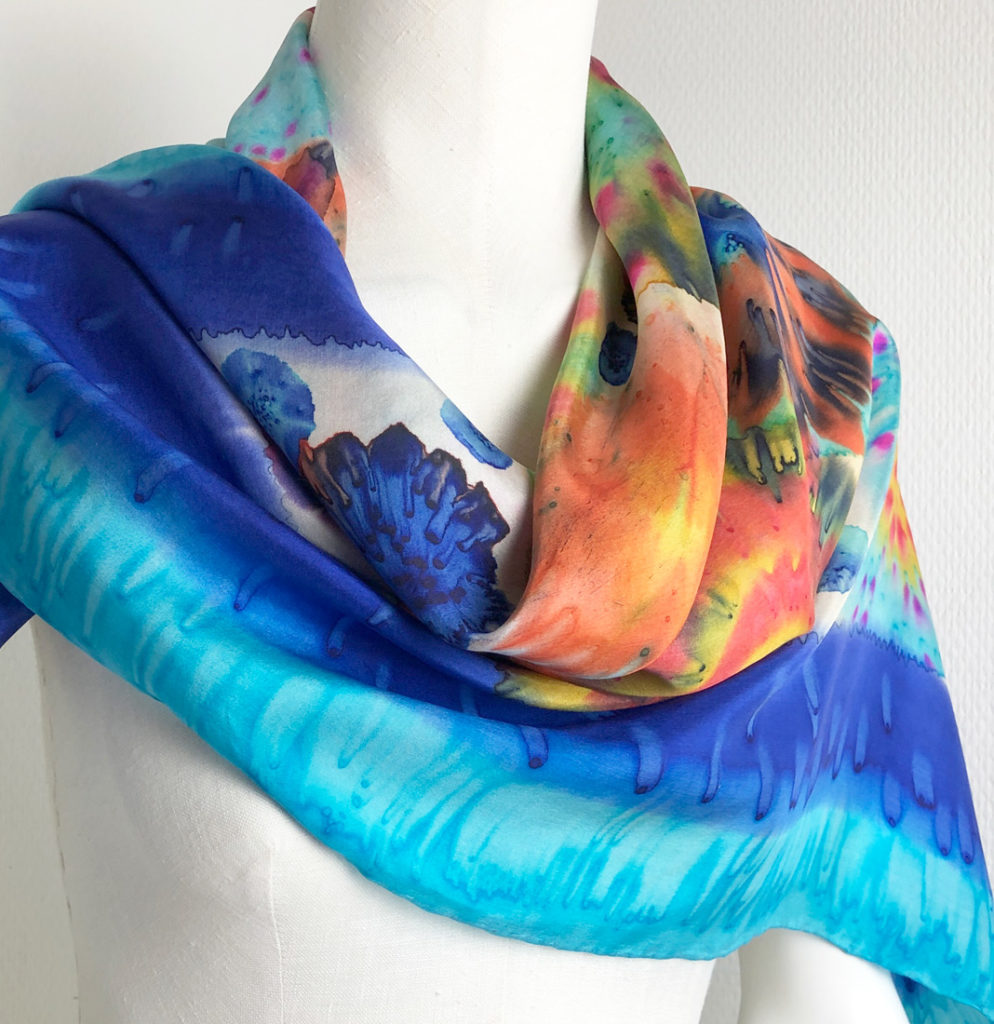 Hala applies in Iraq already patchwork and hand painting on silk techniques in her textile designs. She carries the culture of her childhood in her heart in Sweden, more over she misses the heat of the sun and the whirling use of colors. These memories and that feeling inspire her to design the colorful silk shawl collection with the textile design hand painting design technique. She calls this silk shawl collection "Reflections under the Sun".
Lasering textile design technique
Hala uses laser technique to create patterns on some textiles. The synthetic textiles work very well. Hala worked out different examples for home textile products.
Textile design technique knitting
Hala uses knitting textile design technique in some of her designs, she designs textile art, blankets and throws in cooperation with the Textielmuseum.
Dry felting
Hala applies needle felting (punching) to unite different pieces of textile, like lace and wool. It turns out to be a wonderful technique and it can by applied using different materials. Hala is aware how polluting the textile industry is. This technique enables her to contribute to a more sustainable world. This unique textile design technique can be very well used with left overs from used pieces of textiles to create women's fashion. She connects different kind of textiles even old pieces of clothes in a very special way with a great esthetic effect. She has come across customers and fashion designers who want to apply it in their designs for dresses. Enjoy the effect in the shawls in the pictures shown.
The exhibition Earth Matters of the Textielmuseum in Tilburg, the Netherlands, challenged designers to reuse textiles from old clothes and create new designs. The red shawl was Hala's contribution. The idea is to connect together pieces of an old shawl, a pullover and left overs from the French design house Malhia Kent. The old pieces of wool with fit the colors.
The result is a fully new luxury exclusive shawl. Wouldn't you want such a new creation and contribute to the environment?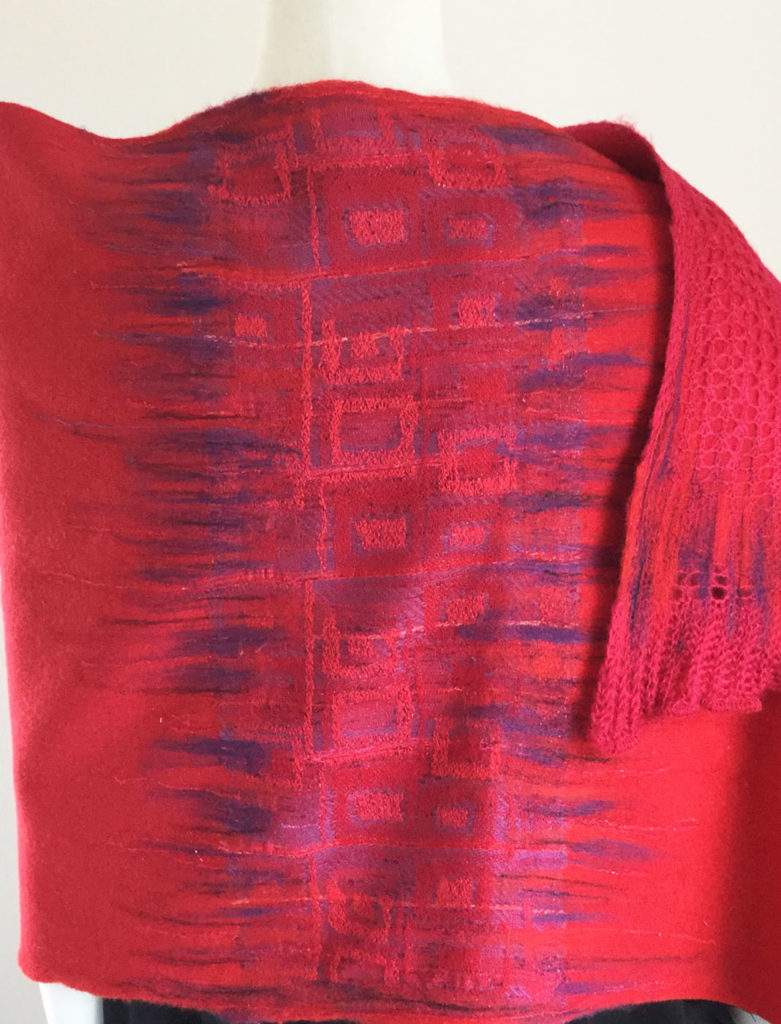 Hala's textile designs
For more textile designs online follow fashion textiles and home textiles on this website.
Buy finished textile designs in her textile online shop.
Hala created finished products like Handmade scarves: You can find more information and background in her handcrafted scarves blog.
Inspired, and you want a tailor made or customized textile design? This is here contact page. Email or phone her for any textile design she can work out for you.
Use the icons below to visit her Facebook page or Instagram page.
Visit Hala to work out a textile design. Find her address on the contact page.
Textile designs – Hala's movie
Hala Yousif is textile designer and owner of Halle Design.
Find here the link to her biography